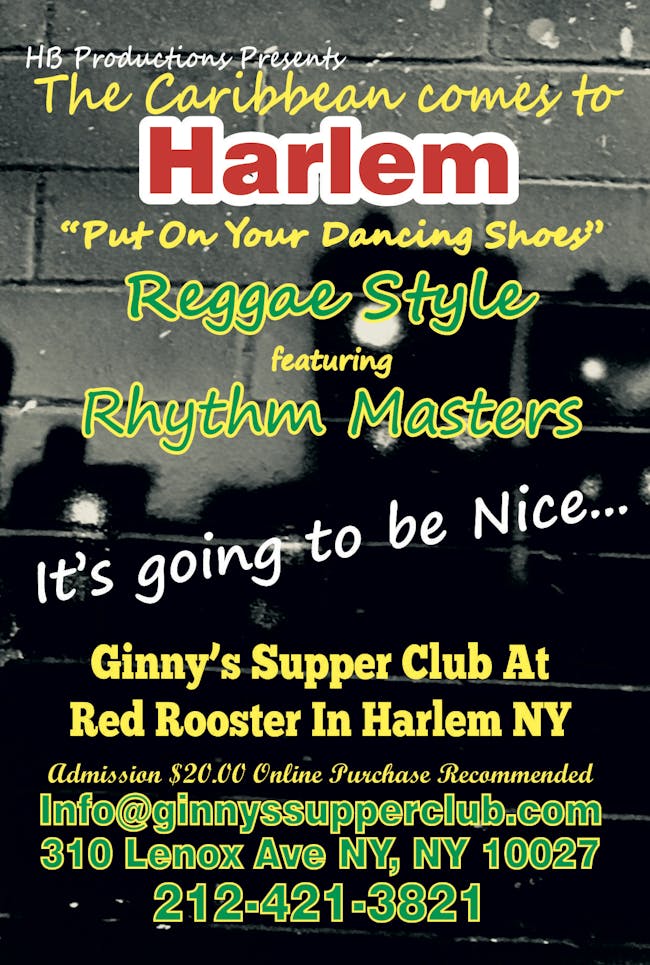 Pre-Sale Tickets $15 / $20 dollars at the Door
Caribbean Night Comes to Harlem
Doors open at 6:30pm and we'll be offering dinner; contact us to make a reservation, 212-421-3821. Show starts at 8pm.
Put on your dancing shoes Reggae style featuring Rhythm Masters.
Rhythm Master Band was formed 25 years ago in Colleyville, Manchester, Jamaica. The original members of the band were a group of brothers who just loved playing music. When the group migrated to the States, they began playing at some events to get some more experience in the professional music business. 25 years later, we're well known all round the New York area & loved for their music & professionalism. We have backed up many Reggae artists from beginner musicians, to Reggae Superstars including Luciano, Sanchez, Gumbae Culture, Ed Robinson, Frankie Paul, Glen Washington, Everton Blender, Jimmy Riley, Brigadier Jerry to name a few!
Now with our New group (band members) each performing Artists in their own rite continue to Entertain the masses with versatility!
Members:
Mickey (Bassy)
Lou Keys (Key Boards)
Father Skeng (lead Guitar)
Jay (Drummer)
Mr. Rajah (percussion\Artist.)
Monique Minott.
Milton (Money Mills) Samms.
Kristopher
Horace (Double) Denton.
Venue Information:
Ginny's Supper Club
310 Lenox Avenue
New York, NY, 10027